Institute for Testing Materials and Structures

Within the Faculty, there is the Department for Design and Testing of Materials and Structures (ZPIMK), with a modernly equipped laboratory located in the new building of the Faculty. In the Department, students perform laboratory exercises and participate in the process of testing building materials.
In the pre-war period, the "Institute for Civil Engineering and Building Structures", which was founded in 1978, operated at the Faculty of Civil Engineering in Mostar. This period is characterized by several realized scientific research projects, especially in the field of using secondary raw materials such as fly ash from "TE Gacko" and silicate waste from the ferrosilicon factory from Jajce. Significant activity also took place on the issue of karst water and waterproofing works. The Faculty and the Institute were involved in social goals, which were funded by the SIZ of Science of BiH.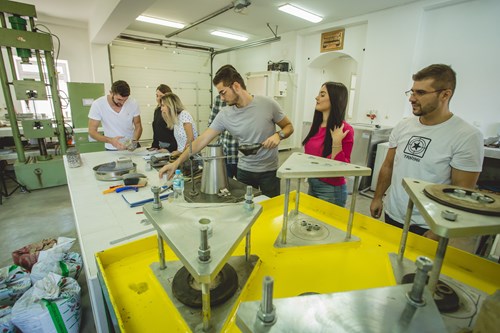 In November 1995, professional, developmental and scientific work continued through the Institute under the name "Institute for Design and Testing of Materials and Structures". The laboratory of the Department was first located in the facility "Hidrogradnja" in the settlement of Zalik, and then in the new building of the Faculty and was completed with equipment, which was mainly financed by the European Union.
The staff from the Faculty participates in the work of the Department, so that there are specialists for certain areas from the construction and geological activities, and experts from other faculties and institutes are also hired.
The Institute has cooperation with the following institutions:
Technical Faculty in Bihać,
Institute of Geotechnics in Sarajevo,
Institute for Traffic in Sarajevo,
Institute of Geology in Sarajevo,
Kemal Kapetanović Institute in Zenica,
Laboratory "Igman" in Konjic,
Institute of Materials and Structures in Sarajevo,
LGA Institute in Nuremberg.
In the post-war period, the Institute was especially engaged in:
Quality control of concrete and concrete components, testing of compressive strengths (pictures);
Geotechnical tests on roads and other facilities;
Testing of injection mixtures;
Testing of lime and cement mortars (pictures);
Quality control of brick products and concrete pipes; quality control of concrete masonry blocks;
Examination of stone.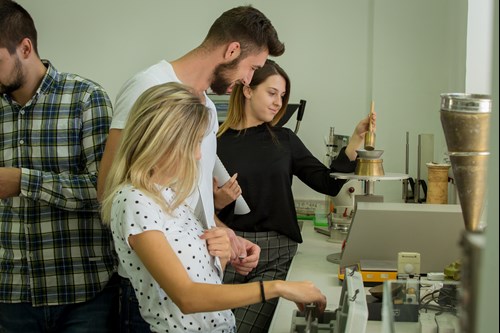 Since its establishment, the practical part of teaching for students, but also scientific research has largely taken place in the Department of Design and Testing of Materials and Structures, which has modern equipment for laboratory and field testing.
The main tasks of ZPIMK of the Faculty of Civil Engineering in Mostar are:
development and improvement of scientific-research and highly professional work in the field of construction and geodesy,
practical training of younger scientists and researchers,
education and training of new teaching staff,
solving complex tasks in the field of construction for the needs of the economy and the wider community,
experimental work and experimental teaching,
cooperation with related institutions from the country and abroad.
Phone: 036 514 850
Phone: 036 514 874
Email: gf@unmo.ba
Bank account: 1610200000290419
Find out about enrollment options
Join us
The Faculty of Civil Engineering in Mostar offers the possibility of enrollment in two directions of the first cycle and two directions of the second cycle of studies